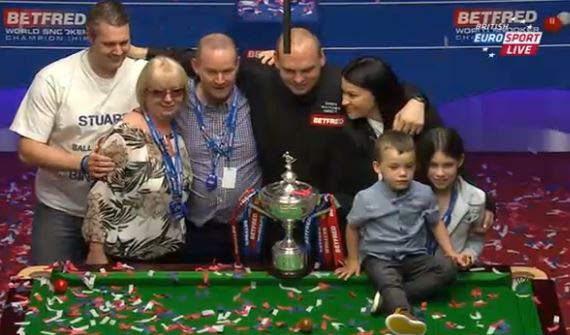 In the World Snooker Final the quality kept up with the first days play and was a very entertaining Final Between Stuart Bingham and Shaun Murphy. Both players scoring well and a few twists and turns under the Pressure of the Crucible.
In the fourth session Bingham won six out of eight frames – missing the final red on a maximum 147 effort along the way which left him four frames from victory at 14-11. Stuart was appearing in his first final and had fought back from 3-0 and 8-4 down to end the first day 9-8 behind.
In the last Interval the score where 15 Bingham v Murphy 14 with the turn around being a missed black when Bingham was 14-11 up. A few mistakes later and the pressure was on Stuart and Murphy looked the more comfortable.
On resumption of the Final and the last session Murphy wan in on 14 and missed the blue into the Middle and left a red near the black spot. What would normally be a easy red for Bingham he missed it and let Murphy back in once again and that which Shaun took full advantage of the mistakes from Stuart but then missed when leading 52-0 but left a red over the corner.
Stuart swerved to try and move it and left it in the pocket and it was now 15-15! A few tense frames then went to bingham and he finished it of with a 88 break in the last missing the second last red.
Stuart Bingham becomes the oldest player to win the World Snooker title winning 18-15 since Ray Reardon who was 45 in 1978.

THE SCORES
Shaun Murphy (Eng) 15-18 Stuart Bingham (Eng)
First session (Sunday): 103-44 (68), 69-51 (59), 74-5 (65), 0-105 (105), 15-68 (56), 90-0 (90), 7-55, 30-73 (65)
Second session (Sunday): 74-57 (Murphy 74, Bingham 57), 106-1 (106), 121-14 (121), 97-41 (51), 1-76 (76), 7-129 (123), 0-113 (89), 76-0 (76), 22-67 (53)
Third Session: 4-87 (87), 40-68 (51), 0-112 (112), 23-95 (50), 80-4 (59), 0-87 (87), 84-0 (84), 7-86 (57)
Final Session: 73-6, 6-102 (102), 75-55 (75), 68-29 (64), 76-0, 56-80, 3-68 (55)and a 88 break in the final frame.
More clips to come once they are up:

ABOUT BINGHAM:
Stuart Bingham (born 21 May 1976, in Basildon, Essex) is an English professional snooker player. As an amateur, he won the 1996 IBSF World Snooker Championship and then took 16 years to win a professional ranking event.
At the young age of 35, he won the first ranking title of his career at the 2011 Australian Goldfields Open and claimed his second ranking title at age 38 by winning the 2014 Shanghai Masters.
Now coming up to his 39th Birthday he has claimed The World Snooker Title and helps all of us younger players close to forty believe once again that age is not the barrier.
ABOUT MURPHY
Shaun Murphy (born 10 August 1982) is an English professional snooker player, who won the 2005 World Championship. Nicknamed "The Magician", Murphy is noted for his straight cue action and his long potting.
Born in Harlow and raised in Irthlingborough, Murphy turned professional in 1998. His victory at the World Championship was considered a major surprise as he was only the third qualifier to lift the title. His other ranking tournament victories came in the 2007 Malta Cup, the 2008 UK Championship, the Players Tour Championship 2010/2011 – Finals and the 2014 World Open, while he reached a second World Championship final in 2009. He has also won seven non-ranking tournaments, including the 2015 Masters, which completed his career Triple Crown.
Murphy has won over £2 million in prize money and has compiled more than 300 century breaks in his professional career.