Walter Lindrum OBE – Billiards
Walter Lindrum was Inducted into The Sport Australia Hall of Fame in 1985 as an Athlete Member for his contribution to the sport of billiards and was Elevated to "Legend of Australian Sport" in 1998.
Lindrum is often considered to be the greatest player ever seen in the sport of billiards, with some 57 world records to his credit, many still standing. Lindrum is also often referred to as one of the Australian all-time great sporting heroes along with Sir Donald Bradman and Sir Hubert Opperman. At his death in 1960 newspapers called him the 'Bradman of Billiards'.
Born in Kalgoorlie, his father, Frederick Lindrum II, was an Australian billiards champion at the age of 20. Walter's older brother, Frederick Lindrum III, became the professional champion of Australia in 1909.
Lindrum's grandfather, Friedrich Wilhelm Von Lindrum, was Australia's first professional billiards champion having defeated the English master, John Roberts Snr., in 1869. Frederick, Walter, and Walter's nephew Horace Lindrum were closely tutored by Fredrick (II).
Lindrum lost the top of his index finger on his right hand in an accident in 1901, so his father taught him to play billiards left-handed. Much of his childhood was spent practising for up to 12 hours a day, under his father's tutelage. His first professional game was played at the age of 13.
During the mid 1920s Lindrum's standard of play was without competition in Australia, with many players refusing to compete against him. As a result, exhibition matches were organised, often with New Zealand champion Clark McConachy.
It was not untill 1929 that Willie Smith, considered by many to be one of the best English billiards players of the time, visited Australia and played three fairly even matches against Lindrum. At one game all, Lindrum was forced to abandon the third game midway through, upon the imminent death of his girlfriend. While technically the match was a forfeit, Smith refused to accept the trophy and insisted it be awarded to Lindrum.
Smith, McConachy and Lindrum departed Australia in September 1929 for a tour of England. Between 1929 and 1933 Lindrum dominated the English billiards scene. Often he would start by conceding up to 7000 points to his opponents. Lindrum and his main rivals, McConachy, Smith, Joe Davis and Tom Newman, were considered 'the big five'.
On February 19, 1931, Lindrum gave a billiards exhibition for the King and other members of the Royal Family at Buckingham Palace. The King presented Lindrum with a pair of gold and enamel cuff-links bearing the royal monogram. These formed part of Lindrum's essential attire for the remainder of his playing career.
Lindrum won the 1933 world championship and argued that he should be allowed to defend his title in Australia. The match was organised to coincide with the Melbourne centenary celebrations in September 1934. His challengers were McConachy and Davis. Lindrum won this title, but in subsequent years the title became dormant for lack of challengers, until Lindrum relinquished it in 1951 to McConachy who held it until 1968.
During World War II, he raised over $1 million for charity, mainly through staging nearly 4000 exhibition matches throughout Australia.
A few of his many records included the world speed record, set in June 1927, when he scored 816 in 23 minutes in an unfinished break.
In Manchester 1930, Lindrum set a record aggregate of 30,817 during the fortnight (48 hrs) match against Willie Smith. In this match he made ten breaks over 1000 with a highest of 2419. In his final match of the tour against Smith in London, Lindrum's performance set numerous records: the highest individual aggregate (36,256), the largest winning margin (21,285), a record match average (262), and a record number of four-figure breaks (11). Smith, although beaten, had played exceptionally with an average of 109 per innings for the match.
His record break of 4137 was made in a match he lost against Davis at Thurston Hall, London on January 19, 1932. Lindrum occupied the table for 2 hours 55 minutes, for about 1900 consecutive scoring shots. He also holds the record break for each country that he played in, the fastest century break (46 seconds) and 1011 points in 30 minutes. In 1933 on a tour to South Africa Lindrum claimed a new world record for fast scoring when he completed 1000 points in 28 minutes in Johannesburg. Many of his results brought on changes to the rules of the game.
Lindrum was made an Officer of the British Empire (OBE) in 1958 for his services to billiards and charities and was made a Member of the Order of Australia (AM).
He is buried in Melbourne General Cemetery where it remains the most visited grave.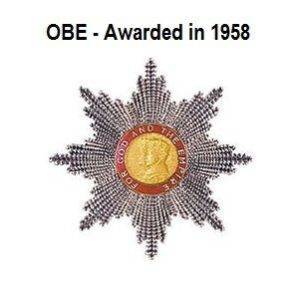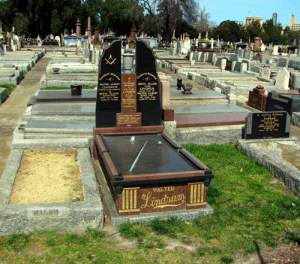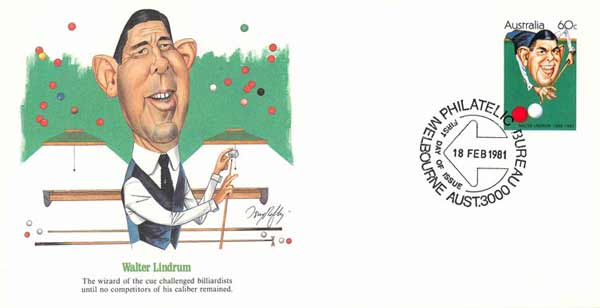 How good was he?
Walter Lindrum was the World Professional Billiards Champion for 4 consecutive years (1929-1933), and so dominated the sport that they changed the rules in an attempt to curb his dominance. One critic Neville Cardus even referred to Bradman as "the Lindrum of cricket". In June 1927 in Melbourne he claimed a world speed record when he scored 816 points in 23 minutes in an unfinished break.