One Piece Cues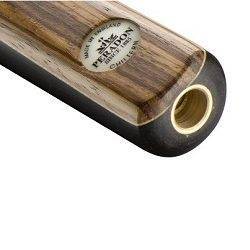 Our cues in this area come from Cue Creator, Phoenix and Peradon. The quality of the Cue Creator is of the highest standards in both splicing and point work and they use the highest grade of selected North American Ash and Maple. For Peradon they have the English name and have been around since 1885 and make cues on a larger quantity and timber from Canadian ash.
In my opinion the Cue Creator Cues and Phoenix cues are of the highest quality around including any of the so called high end manufacturers.
If you're from another country other than Australia please contact us for your country pricing including delivery.
Sale
The butt design used in this image is a double face splice using the woods of burl and ovangkol. The quality of the woods as you'll see from the images are expertly picked for the best finishes in billiards around.
For all Cue Creator® cues purchased we're also giving a free Black Aluminium cue case so we have peace of mind when sending.
Pricing for this cue has been discounted as its a stock item with extensions as well.