Cue Tips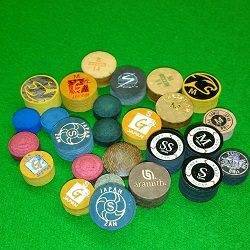 We have a large selection of cue tips for both snooker and pool in laminated and single leather tips.
If you're from another country other than Australia please contact us for your country pricing including delivery.
Sale
Hot
These Tips come in four ratings from G1 to G4 and are a pressed type high quality tip for Snooker and English pool. Century has a number of professional players also using their tips. in this listing is also the Century Pro Titanium – Alloy ferrules.
Top Professional Players Using Century Pro Ti/F Titanium Ferrule
Stephen Maguire
Anthony McGill
Mike Dunn
Rob Lawler
Top Professionals Using Century Pro Cue Tips
• Mark Williams (M.B.E) – Multiple World Champion & current 2018 Betfred World Snooker Champion • Shaun Murphy – Multiple World Champion,Mark Selby – Multiple World Champion & World Number 1 Snooker Player,Kyren Wilson, Stephen Maguire, Neil Robertson