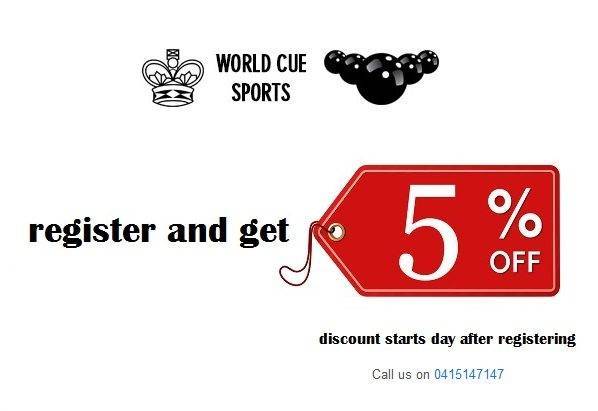 Hi All,
Register and SAVE! We have an offer for all of our client to register on the World Cue Sports site and get 5% OFF plus more on certain products! Here's the link: Click Here
Sharp Global now has over 1000 registered people now getting our newsletters and we want our clients to also save more and possibly spend more as well.
This offer is OPEN to the World Cue Sports site only as we need to try and get more people from our current client base using The World Cue Sports from which our new and existing customers will benefit.
All of the products on Sharpsnooker are also on WCS and we believe you'll find things easier to find.
Of Course if you have any questions please call us or send an email or chat on our online chat function. Paypal Express is also set up on WCS and will also be ready on the sharpsnooker site in time.
Thanks for all of your sales and hope your all cueing well.
Kind regards
Mick & Sanela Sharp
Sharp Global Enterprises Pty Ltd
ABN 19143969779
Combined website : www.worldcuesports.com.au
sharpsnooker site: www.sharpsnooker.com.au

Postal Address :
Sharp Global Enterprises
PO Box 8008
Werrington County NSW 2747
Sydney, Australia
Contact Info
Mick Sharp 0415 147 147