Description
These tips are a range of tips we've produced with the tips each individually checked for hardness. The decision to make these rated tips is due the the high amount of tips being made which are of poor quality around.
These rated tips are a premium quality A grade leather with the tips graded in Super Soft, Soft , Medium, Medium Hard and Hard.  The tips come as a container of  five tips and in the container were using silicone beads to keep the tips in good condition and keeps them as dry as possible during delivery.
We use a very high grade cow hide which is compressed at a higher rate than other tips. This gives our tips a ran in feel and a lower profile height. Our tips are infused in a velvet-grade silica blue chalk dust to protect the leather of the tip before use.
As you'll see our tip height is a much lower profile than other tips and this is due to the compression we use on the leather and gives a much better feel overall than others around.
Here's some measurements of current tips in the market place with our tip height being 4.5 to max 5mm.
Elk Master tip height in Depth =5.88mm
Blue Diamond Depth=5.27
Diamond Plus =6.38
Century tips = 5.40

Why Choose Our tips:
Quality cue tips, single layer grade A tips
Unique Manufacturing processes
Every tip tested by Durometer in Australia (not in China and not outsourced)
Same grade tip in each box guaranteed by World Cue Sports
Better height in depth and each tip tested.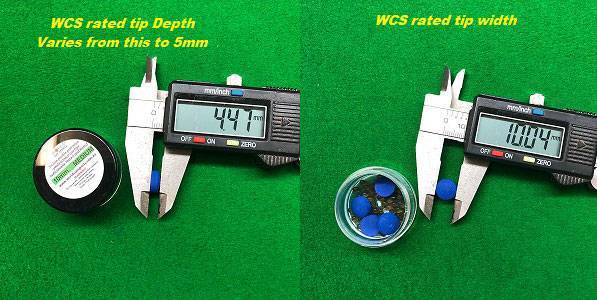 Grades we have All individually tested by us at WCS:
Cue Creator Pro Rated Tips -Super Soft
Cue Creator Pro Rated Tips -Soft
Cue Creator Pro Rated Tips -Medium
Cue Creator Pro Rated Tips -Medium Hard
Cue Creator Pro Rated Tips -Hard
Silicone Beads in Container:
We have used dry beads when packing the tips to keep them in good order with them being orange when packed and may be green by the time they are delivered. This just makes the tips nice and dry before use and will help in the overall performance of the tip. To get them back to active (orange) and keep the tips dry you would need to re heat in a oven at 120 c is ideal.