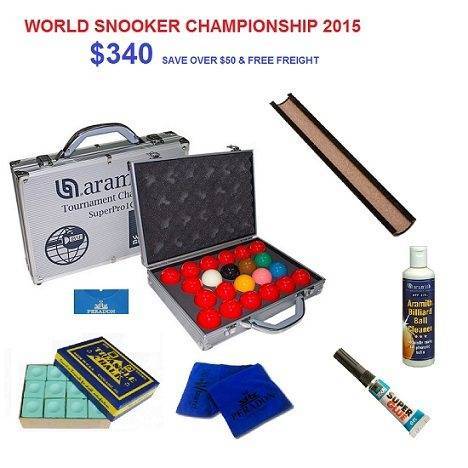 WORLD CHAMP SPECIAL 2015 consists of the Pro 1 G balls + Cleaner + 9 Inch Tip Sander + Ball Marker + Chalk +Cue Towel and Glue. The Special goes for 17 days or while stocks last only.
This Snooker Aramith Pro 1 g set comes in a great looking case which is more compact than all other i have seen.
This set is as used in all W.S.A.and I.B.S.F. Tournaments are now exclusively available from Peradon.  Aramith have supplied sets of Snooker Aramith Pro 1 g balls to the World Snooker Professional Players Association and our now used in all Professional Ranking events.
– https://www.worldcuesports.com.au/product/world-champ-special-2015/#sthash.F8maCVbt.dpuf