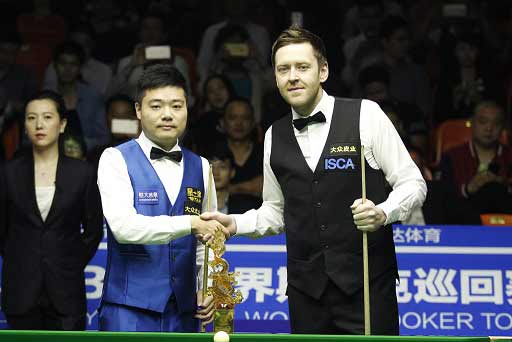 Oct
23
Ding Junhui wins the Haining Open
October 23, 2015
0 Comment(s)
Ding Junhui
Ding Junhui won his first title for 16 months by beating Ricky Walden 4-3 in the final of the Haining Open Asian Tour event in China.
Ding made an 82 to close the gap and his break of 53 put him in control of frame six. Walden got the snookers he needed only for his opponent to pot green and brown for 3-3. And a typically clinical break of 74 from Ding in the decider gave him the £13,500 top prize.
Ding's victory may also earn him a spot at the Champion of Champions in Coventry next month.
Both players now head to Daqing in the north of China for next week's International Snooker Championship, where Walden will be defending the title having won the £125,000 top prize last year.
;
October 23, 2015